Non Contact Type Calibrators Tempsens Việt Nam
Công Ty TNHH TM và DV Tăng Minh Phát là nhà phân phối chính thức của hãng Tempsens Instrument tại Việt Nam.
Non Contact Type Calibrators Tempsens Việt Nam
LBB15/11 CH, CALsys 500BB, Calsys 110BB, CALsys 1200BB, CALsys 1500BB, CALsys 1700BB, FASTCAL 3000 TEMPSENS VIỆT NAM
EXTENDED AREA BLOCK BODY
Extended area black body is defined by the large emitting surface area precise temperature control with good uniformity. The blackbody is designed to provide infrared radiation as an ideal blackbody emitter. Because of the large uniform surface area the body called extended area black body. Tempesens offers extended area black body with two emitter size small and large have different temperature range. It desigined accordingly temperature measurement and calibration both are performed in the radiation head and transfer digitally to the controller. It is designed highly standard and stable black body for testing of infrared sensors and thermal detecting devices. We sepeartly provide high programming controller with black body source. High accuracy chamber have designed separately. The temperature of the furnace is set or change by the controller.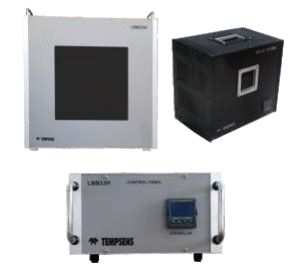 KEY FEATURES
Large area emitter size
Good uniformity
Capable of operating at wide temperature range
High resolution & PC Interfacing
Better stability
High accuracy
PROPERTIES
Independent controller with calibrated area.
Monitored controlling device.
Portable controller.
Serial communication and computer interfacing by port
Rs-232.
Quick and convenient calibration technique.
LBB100CH
Temperature Range : 15 to 100° C
Display Resolution : 0.01° C
Stability : ±0.5°C
Uniformity : ±2°C
Controlling Sensor : RTD
Emissivity : 0.97
Emissive Head : 1000x1000 mm
Power Requirement : 230VAC
Method of Control : Digital Self tuned PID Controller
Computer Interface : Rs-232/USB
Dimensions : 1450 (H) x 1450 (W) x 600 (D) mm
Weight : 35 kg
LBB11CH
Temperature Range : 0 to 140° C
Display Resolution : 0.01°C
Stability : ±0.01°C
Uniformity : ±0.08°C
Controlling Sensor : RTD
Emissivity : 0.97
Emissive Head : 100x100 mm
Power Requirement : 220VAC, 500W
Method of Control : Digital self tuned PID Controller
Computer Interface : Rs-232/USB
Dimensions : 610 (H) x 550 (W) x 610 (D) mm
Weight : 30 kg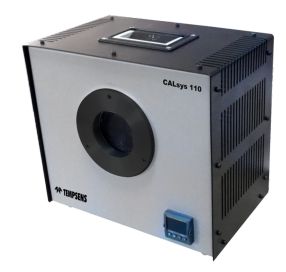 CALSYS 110BB
SPECIFICATIONS
Temperature Range : 10 to 110°C
Temperature Resolution : 0.1°C
Stability : ±0.05°C at 10°C ±0.07°C at 60°C ±0.1°C at 110°C
Controlling Sensor : Precision PRT
Method of Control : Digital self tuned PID Controller
Emissivity : 0.95 ±0.01
Time to Reach Max Temp: 25 Mins
Computer Interface : RS - 232
Operating Temperature : 20 to 25°C
Power Requirement : 230 VAC, 0.5 KW
Dimensions of cabinet : 330(H) X 355(W) X 225(D) mm
Cavity : High Emissive Painted
Aluminum Plate
Aperture : 80 mm dia
Weight : 12Kg (without packing )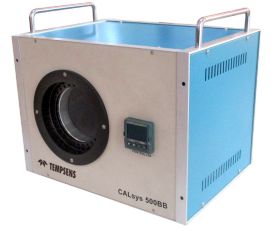 CALSYS 500BB
SPECIFICATIONS
Temperature Range : 50 to 500°C
Temperature Resolution : 0.1°C
Stability : ± 0.5°C at 50°C ±0.8°C at 250°C ±1.0°C at 500°C
Controlling Sensor : T/C "N" type
Method of Control : Digital self tuned PID Controller
Emissivity : 0.95 ±0.01
Time to Reach Max Temp : 45 Mins
Computer Interface : RS - 232
Operating Temperature : 20 to 45°C
Power Requirement : 230 VAC, 1.0 KW
Dimensions of cabinet : 270(H) X 360(W) X 270(D) mm
Target Size : Dia - 100 mm (Ridged Aluminum Plate)
Weight : 10Kg (without packing)
CALSYS 1200BB
SPECIFICATIONS
Temperature Range : 300 to 1200°C
Temperature Resolution : 1.0°C
Stability : ±0.2°C at 300°C ±0.3°C at 800°C ±0.5°C at 1200°C
Controlling Sensor : Precision PT/RH-PT T/C
Method of Control : Digital self tuned PID Controller
Time to Reach Max Temp : 1.5 Hrs
Computer Interface : RS - 232
Operating Temperature : 20 to 45°C
Power Requirement : 230 VAC, 2.5KW
Dimensions of cabinet : 590(H) x 450(W) x 530(D) mm
Radiation Cavity Type : Silicon Carbide
Dimension of cavity : 46 mm Dia x 85mm depth
External Aperture : 40 mm dia
Weight : 50Kg (without packing)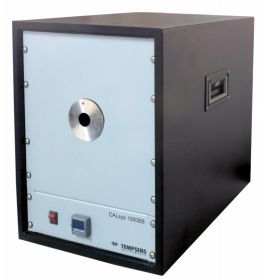 CALSYS 1500BB
SPECIFICATIONS
Temperature Range : 500 to 1500°C
Temperature Resolution : 1.0°C
Stability : ±0.4°C at 500°C ±0.7°C at 1000°C ±1.0°C at 1500°C
Controlling Sensor : PT-RH/PT T/C
Method of Control : Digital self tuned PID Controller
Heaters : Silicon Carbide Spiral Rod Heater
Time to Reach Max Temp : 2.5 Hrs
Computer Interface : RS - 232
Operating Temperature : 20 to 45°C
Power Requirement : 230 VAC, 3.5 KW
Dimensions of cabinet : 590(H) x 450(W) x 530(D) mm
Radiation Cavity Type : Silicon Carbide,
Dimension of cavity : 46 mm Dia x 85mm depth
External Aperture : 40 mm dia
Weight : 50 Kg (without packing)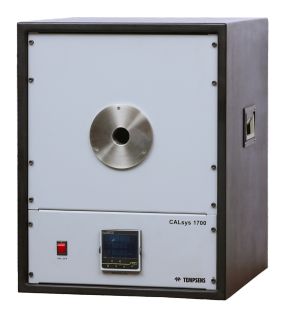 CALSYS 1700BB
SPECIFICATIONS
Temperature Range : 500 to 1700°C
Temperature Resolution : 1°C
Stability : ±0.7°C at 500°C ±1.4°C at 1200°C ±2.0°C at 1700°C
Controlling Sensor : Precision PT/RH-PT T/C
Heaters : MoSiO2
Method of Controlling : Digital self tuned PID Controller
Time to Reach Max Temp : 3 Hrs
Computer Interface : RS - 232
Operating Temperature : 20 to 45°C
Power Requirement : 230 VAC, 3 KW
Dimensions of cabinet : 640(H) x 500(W) x 550(D) mm
Black Body Cavity Aperture: 29 mm, End closed tube
Weight : 80Kg (without packing)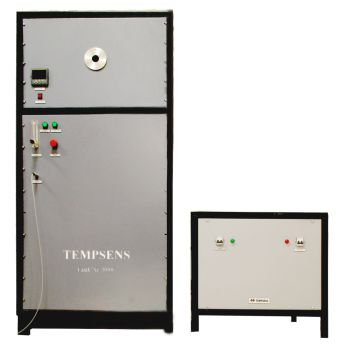 FASTCAL 3000
FastCAL 3000 is a high temperature blackbody source with a capacity to produce high temperature using high emissivity emitter(graphite tube) and at the same time stabilize at the required temperature within a few minutes.
It is mainly used to calibrate non-contact temperature sensors. Step change in temperature is achievable within seconds. The graphite tube has an emitter diameter of 25mm (1.00") and an emissivity of +0.995 ±0.005. Target temperature is sensed by a non contact temperature sensor/Pyrometer which gives a feedback to PID controller to regulate the cavity temperature precisely to the desired set points.
Remote set point is achieved via RS-232 C communication port.
All safety features to protect equipment and operator are easily accessib
KEY FEATURES
Water flow failure
Increase in water temperature
Argon gas flow failure ü Over current
Trực tuyến:

5

Hôm nay:

994

Tuần này:

994

Tuần trước:

9118

Tháng trước:

9118

Tất cả:

780419