Lapar Viet Nam | Đại Lý Phân phối Lapar Valve tại Việt Nam
Thành phần:
Mới 100% - Chính hãng
Mã sản phẩm:
Lapar Viet Nam
Công Ty TNHH TM và DV Tăng Minh Phát chuyên cung cấp thiết bị hãng Lapar Control Valve tại Việt Nam
A. Giới thiệu về Lapar Control Valve | Lapar Viet Nam
LAPAR, headquartered in Milan, Italy, is one of international brands in the field of fluid control. With a history of 30 years and more, LAPAR has received broad recognition from global customers with complete network system, outstanding product quality and integrated customer solutions

Currently, LAPAR has formed a product pattern in the Asian-Pacific regions, involving over 20 series, such as butterfly valve, ball valve, control valve, stop valve, gate valve and check value. LAPAR strictly carries out quality standard systems, such as ISO, API, ANSI, DIN and GB.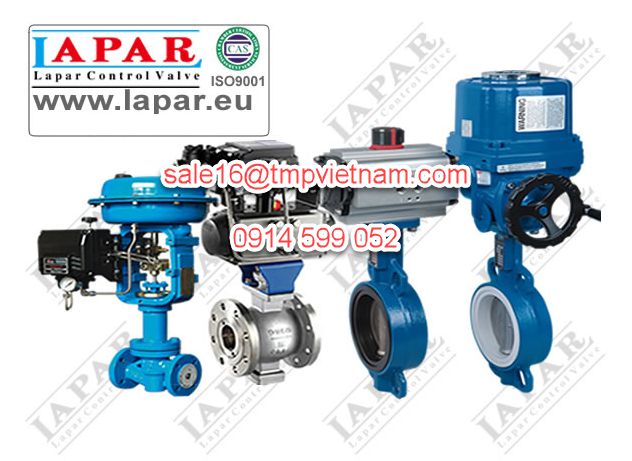 B. Đại Lý Lapar Việt Nam chuyên cung cấp:
1.Butterfly Valves | Van bướm Lapar
LPB11 Rubber Seat Butterfly Valve
LPB12 Triple Eccentric Metal Sealing Butterfly Valve
LPB13 High Performance Double Eccentric Butterfly Valve
LPB14 High Performance Butterfly Valve
LPB15 Fluorine Lined Butterfly Valve
LPB17 Aeration Butterfly Valve | Damper Butterfly Valve
2. Ball Valves | Van bi Lapar
LPA11 Flanged Ball Valve
LPA12 Threaded Ball Valve
LPA13 Flanged Three-way Ball Valve
LPA14 Thread Three-way Ball Valve
LPA15 Welded Ball Valve
LPA16 Thin Ball Valve
LPA17 Ball Sector Valve
LPA18 Metal Sealing Ball Valve
LPA19 Teflon Lined Ball Valve
LPAJ12 Mini Electric Metal Ball Valve
LPK11 High Pressure Ball Valve
LPK14 High Pressure 3 way Ball Valve
3. Control Valves | Van điều khiển Lapar
LPH11 Single Seat Control Valve
LPH113 Fluorine Lined Control Valve
LPH13 Cage Guided Control Valve
LPH14 3 way Control Valve
LPH15 Low Noise Cage Guided Control Valve
LPH17 Pneumatic Rotary Globe Control Valve
LPH21 High Pressure Single Seat Control Valve
LPH23 High-pressure Cage Guided Control Valve
LPH25 High-pressure Low-noise Cage Guided Control Valve
LPH31 Angle Type High-pressure Single-seat Control Valve
LPH33 Angle Type High Pressure Cage Guided Control Valve
LPI11 Self Operated Pressure Control Valve
LPI12 Self-operated Temperature Control Valve
LPI13 Self-Operated Flow Control Valve
LPI14 Self-Operated Differential Pressure Control Valve
LPI15 Pilot-operated Pressure Control Valve
LPC11 Sanitary Ball Valve
LPC12 Sanitary Butterfly Valve
LPC13 Diverter Valve
LPC14 Sanitary Control Valve
LPD11 Plastic Ball Valve
LPD12 Plastic Butterfly Valve
LPDJ11 Mini Electric Plastic Ball Valve
LPE11 Plastic Diaphragm Valve
LPF11 Angle Seat Valve
LPJ11 Globe Valve
LPL11 Knife Gate Valve
LPN11 Y Strainer
LPQ11 Check Valve
LC Actreg Pneumatic Actuator
LU Smart Electric Actuators
HKC HQ Electric Actuator
Turbines for Valve
APL Valve Position Monitor
LPZ11 Solenoid Valve
LPZ12 Explosion Proof Solenoid Valve
LS10 Limit Switch Box
PS10 Valve Proximity Switch
Trực tuyến:

6

Hôm nay:

1008

Tuần này:

1008

Tuần trước:

9132

Tháng trước:

9132

Tất cả:

780433