DISOMAT® Opus Weight Indicators | Schenck process Việt Nam
Thành phần:
Mới 100% - Chính hãng
Mã sản phẩm:
DISOMAT® Opus
Công Ty TNHH TM và DV Tăng Minh Phát chuyên cung cấp các thiết bị hãng Schenck process tại Việt Nam
DISOMAT® Opus Weight Indicators
Legal for trade weighing indicator for a wide variety of applications
Stainless steel - at a high protection class for table-top and wall mounting
Top-hat rail design
Panel installation version
Built-in legal-for trade memory (optional)
Fieldbus interface
Ethernet interface, can also be used for
configuration
USB cable for optional α/n PC keyboard
All components can be exchanged without re-verification
For hazardous areas according to ATEX category 3D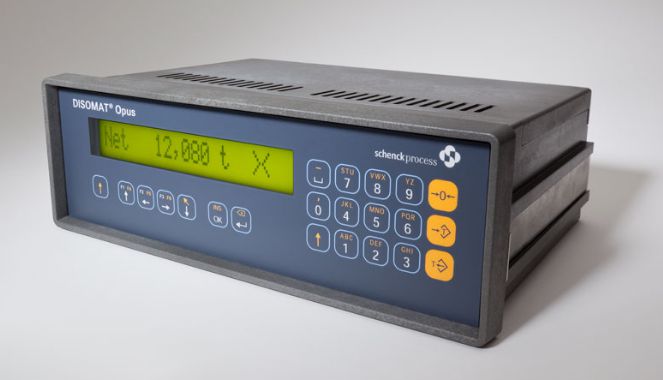 DISOMAT® Opus
Compact and economical for logistics applications
The cost-effective solution for legal-for-trade applications: DISOMAT® Opus
The basic solution that pays off in legal-for-trade applications. It registers weight values, displays them, prints them out, and forwards them to a higher-level system if desired. The DISOMAT® Opus offers two housing options, which include a tabletop device and a wall-mounted device both in stainless steel design. Problem-free interaction is achieved due to optimal hardware and software technology.
The DISOMAT® Opus is ideal for platform scales, container scales or single-component dosing. The selection of different interfaces enables a wide range of simple process applications.
V040000.B11

DISOMAT Opus maxi, VKG 20700,
Stainless steel unit IP65

V040001.B11

DISOMAT Opus mini, VKG 20710,
Stainless steel unit IP65

V040003.B11

DISOMAT Opus maxi, VKG 20740,
Stainless steel unit IP65, 24 VDC supply

V040002.B01

DISOMAT Opus top-hat rail unit,
VEG 20720

V063320.B01

DISOMAT Opus, Panel installation unit
VEG 20700

V063321.B01

DISOMAT Opus, Panel installation unit
VEG 20750, 24 VDC supply

V081990.B01

DISOMAT Opus maxi, stainless steel unit for
ATEX category 3D, main supply

V095580.B01

DISOMAT Opus maxi, stainless steel unit for
ATEX category 3D, 24 VDC supply

V535499.B01

PROFINET kit, VPN 28020 for VKG

V054033.B01

PROFIBUS DP kit, VPB 28020 for VKG

V081906.B01

DeviceNet kit, VCB 28020 for VKG

V081908.B01

PROFIBUS DP kit, VPB 28020 for VEG 20700

V081909.B01

DeviceNet kit, VCB 28020 for VEG 20700

V064721.B06

Procedure EtherNet/IP

V040045.B01

Remote PC keyboard (USB), German key assignment

V040045.B02

Remote PC keyboard (USB),
English key assignment

V040026.B01

Legal-for-trade memory VMM 20407
Trực tuyến:

2

Hôm nay:

726

Tuần này:

8033

Tuần trước:

10931

Tháng trước:

17702

Tất cả:

2416367